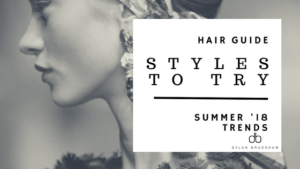 With festivals and pool parties just around the corner, we thought we'd give you some hair inspo for Summer 2018! From braids to up-dos to beachy waves, these looks will have you ready from hanging with friends in the local to frolicking in the beach! Now the most important question… which one to try first?
Double Dutch Braids
We love this look for the festival season! It'll keep your hair out of your face while you dance the night away. Add some glitter in the split and BAM! You're a festival goddess. Another bonus about this cute hairstyle is if you are camping at a festival it's perfect to hide greasy hair! So it's a definite win-win!
Headscarves
Whether you're roaming the streets of Paris or chilling out by the pool, this handy accessory is not only a cute addition to your outfit but it can protect your hair from the sun! With so many ways to style, you can spend all summer with many quirky looks! Use it to tie around your ponytail or wrap around your head for that instant retro feel!
Beach Waves
If you are chilling by the beach this hairstyle will be easy to achieve! From the natural sea salt to the wind styling your hair, you'll be a boho goddess! If like some you're not near the beach, opt for a sea salt spray to add the texture without the sand! Our pick is the Rahua Beauty Enchanted Sea Salt Spray – this gorgeous spray smells just like the beach and it adds texture to give you that beachy vibe! A few spritz here and there can really transport you. Buy here.
Space Buns
We all mastered the art of the Hun bun but this festival season why not try Space Buns? Add some glitter for extra glam and you're ready to hit the main stage! Go for simple buns or style it with braids – this look can be for beginners or pros. Make it what you wish!
Scrunchies
The 90's are back and if you're not bold enough to try crimped hair then this is the perfect way to dip into the comeback trend! From celebs to the runway, everyone loves this nostalgic look. Tie it up high or half up and half down with a cute scrunchie and you're bang on trend!
So what are you waiting for? Test out these hot trends for summer! Book online here.