---
Are you forever trying to grow your tresses longer and failing in the long term goal?
Have you healthy hair, getting regular cuts but still end up with split ends and breakage?
Would you be commited to starting a 90 day 'program' in where your hair will see *99% less breakage and leave you with 78% less split ends??
Then Kerastase's new Extentioniste range is your holy grail!!
Created to enhance and reinforce the length of damaged hair, this range works deep with the hair fibre to protect and repair.
*Guaranteeing less breakage and split ends in no time, follow our steps below to strong, long hair!
Step 1; This hair care routine begins in-salon – *in order to achieve these amazing results a high concentrate restoring treatment must first be applied to your lengths and ends by your hair professional. Involving a mixture of two intensely packed Extentioniste boosters filled with strengthening and fortifying properties. Let us work our magic with this wonderful treatment before applying the finishing touch, by using the strengthening scalp and hair serum which targets the hair from the root – heightening protection from all areas.
Step 2; Home care – Continue to develop the results of this treatment yourself at home by sticking to your hair care routine. Think of it like a work out program for your hair – the longer you treat and condition it, the stronger, longer and unbreakable it will become!!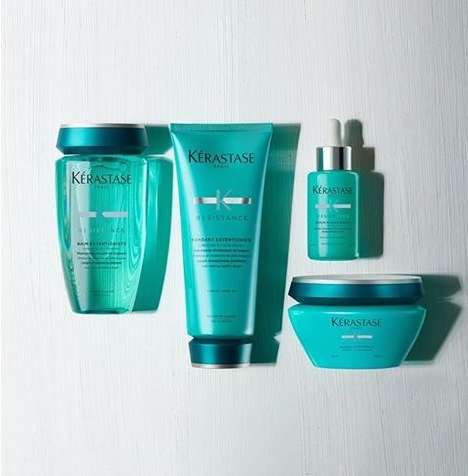 ---
*99% less breakage & 78% less split ends can be guaranteed after in-salon treatment has been used
---
*Extentioniste In-Salon Treatment – €30
Bain Extentioniste Shampoo – €25
Fondant Extentioniste Conditioner – €30
Masque Extentioniste – €37
Serum Extentioniste – €34
Call now to book your appointment on 01 671 93 53 or book online here.
Replenish your home care products here.

---