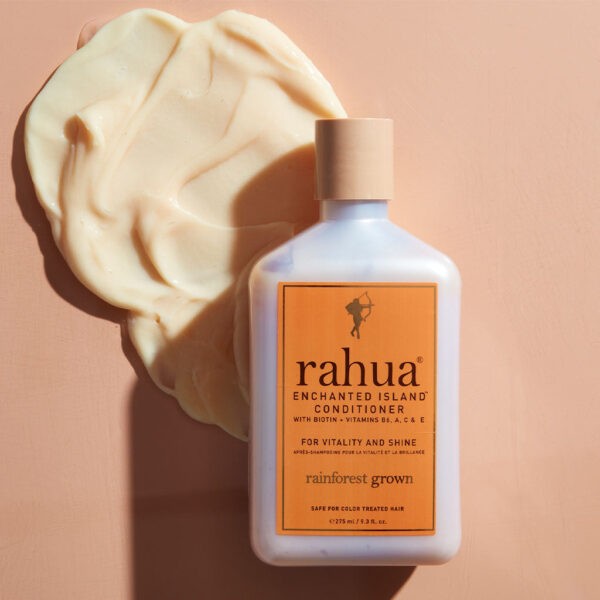 - Strengthen and nurture hair
- Revitalize hair follicle
- Vitality and shine for all hair types
PLANT BASED BIOTIN + VITAMINS B6, A, C, and E: A high performance complex made from organic fruit, vegetables and plant probiotics to strengthen hair follicles and help prevent premature hair loss

SACHA INCHI: A longtime food source in the Amazon, these seeds are exceptionally rich in omega-3 fatty acids and antioxidants including vitamins A and E. Sacha Inchi oil works to lock in hair's moisture and condition and soothe the scalp.

RAHUA: Fortifies weak, damaged strands, nourishes and maintains hair follicle and scalp health; and it's super-fine molecules push color pigmentation deep into the hair shaft, extending color endurance.

POMEGRANATE: A potent antioxidant rich extract with flavonoids that helps stimulate hair growth, reinforce hair follicles and keep the scalp clean and healthy.

GUAVA (GUAYABA): The antioxidants in guava fight free radicals to protect hair from damage; helps to maintain optimum scalp health, treats dandruff, and leaves behind an exotic citrusy scent.

GUAYUSA: Contains twice the amount of antioxidants in green tea, reduces damage from free radicals, and vitamin B3 (with niacin) supports healthy hair.

COCONUT OIL: This oil's nourishing lauric acid speeds absorption into strands; providing instant moisture to tame frizz and heal breakage.

BURITI OIL (MORETE): Rich in vitamins A, C, and E, essential fatty acids, tocopherols, and carotenoids—especially beta-carotene—oil from this Amazonian fruit's flesh protects hair from damaging UVA rays.
After shampooing, apply and massage hair and scalp, rinse.