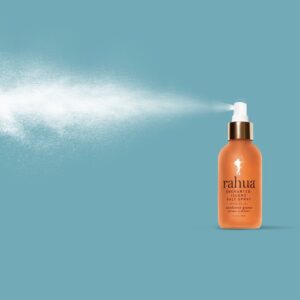 - Delivers loose, sexy, beachy waves
- Creates volume and texture
- Provides light, brushable hold
PINK SEA SALT: Naturally antibacterial, this essential mineral detoxifies and exfoliates the scalp, preserves the health and wellbeing of scalp and skin, and gives hair tousled texture, body, and hold.

GUAYABA (GUAVA): This tropical fruit hydrates and softens hair and leaves behind an exotic citrusy scent.

HIBISCUS: These dramatic flowers are packed with the antioxidants known as anthocyanins. These help reduce UV damage, provide full-spectrum hair color support, boost shine, strengthen hair, and enhance manageability and bounce.

PASSION FRUIT: Vitamin C from this tropical fruit helps to regulate optimal PH balance for hair and scalp and its exotic aroma is transporting.
Mist throughout damp or dry hair from roots to ends. Tousle and style.