We have created a manicure to please all your senses, working with a beautiful range of products from sustainable brand, OWAY & Dylan Bradshaw. Our team loves the concept of Italian brand OWAY; Organic Way is an expression that combines biology (Organic) with lifestyle (Way).  

Inspired by their belief system, our Dylan Bradshaw Nail Therapist created an exfoliant using repurposed coffee grounds & created the Dylan Bradshaw Organic Way Manicure. An exfoliating coffee scrub is an excellent choice for removing dead skin cells & leaves skin smoother with a fresh glow.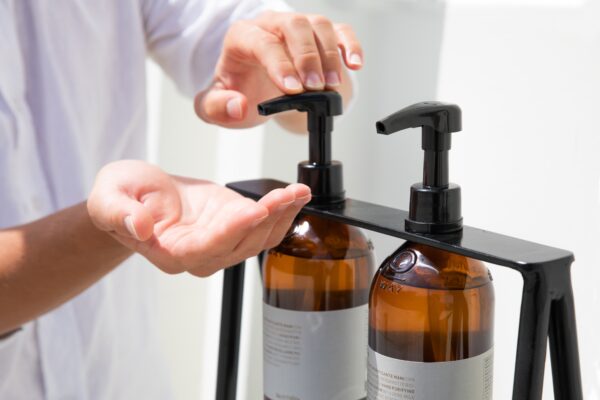 What is included in the Organic Way Manicure?
1. Hands are cleaned & disinfected with OWAY Rugiada which softens hands while removing impurities. 
2. Our therapist carries out nail & cuticle work, followed by a relaxing hand & nail soak. 

3. A custom mix of OWAY Terso & Dylan Bradshaw repurposed coffee grounds exfoliant, is used to gently remove dead skin cells from the hands.

Terso | Benefits
It cleanses very delicately thanks to its micellar texture.
It preserves the hydrolipidic film of the hands and keeps them hydrated and silky.
The plant-derived active ingredients have sanitising properties which ensure a deep cleansing.

4. Hands are massaged & nourished using OWAY Nebula, asoothing balm.
Nebula | Benefits
A Soft & creamy balm that deeply nourishes & hydrates the driest & most dehydrated skin.
Helps to improve skin tone & elasticity, strengthening the protective barrier of the epidermis.

5. Now it's your time to choose your finish; regular polish or The Gel Bottle followed by a cuticle oil treatment. 
*a surcharge of €15 for the gel bottle
For the month of April, we have a special introductory offer for all Dylan Bradshaw clients.
Book your appointment this month & receive €15 OFF our new manicure!
Organic Way Manicure with Polish Normally €55 April Offer €40
Organic Way Manicure with Gel Polish Normally €70 April Offer €55