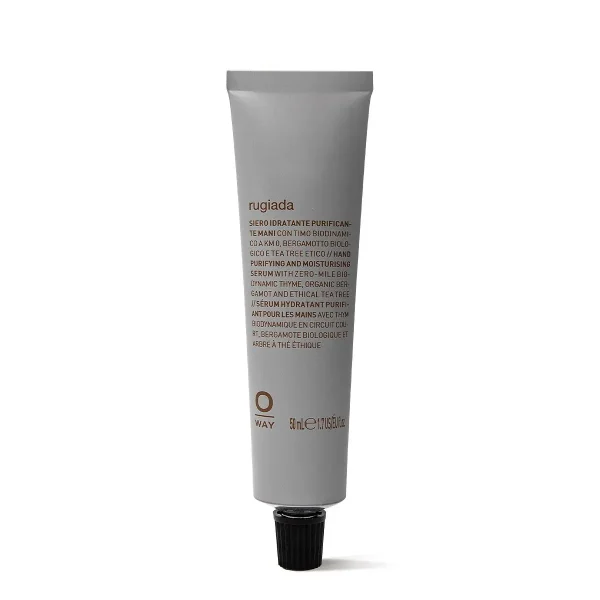 - Makes hands soft, smooth and silky
- Removes impurities with extreme effectiveness
- It's texture is absorbed quickly, leaving no residue
ORGANIC BERGAMOT OIL // Anti-oxidant par excellence and full of vitamins, it leaves hair shiny and detoxifies the scalp. With purifying and energising properties on the skin.

"0 MILE" BIODYNAMIC THYME // Rich in astringent, anti-inflammatory and sebum-balancing virtues, it also performs a natural anti-ageing activity, protecting the skin structures from the harmful reactions induced by oxidation.

ETHICAL TEA TREE // Tea tree essential oil is extracted from the leaves of Melaleuca alternifolia, a plant of the Myrtaceae family, native to eastern Australia. It is well known and appreciated for its antimicrobial and antibacterial properties; it also has interesting antifungal properties, in fact it has been shown to be active against various fungi and yeasts capable of causing disorders of the skin, mucous membranes and skin appendages. In addition to its antimicrobial properties, Melaleuca oil also appears to have anti-inflammatory properties.

SOOTHING COMPLEX OF PLANT ORIGIN // A soothing pool based on sweet Almond, Borage, Linseed and Olive oils, rich in fatty acids (oleic, linoleic, palmitic, alpha linolenic, gamma linolenic and squalene), enzymatically activated, which restore softness and elasticity to the skin, keeping hydration at optimal levels and exerting an intense antioxidant action.
Apply a few drops of product on your hands and massage until completely absorbed.