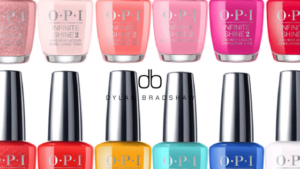 We are happy to introduce OPI into our nail bar!
OPI has changed the nail industry since 1981! It combines leading edge technology with an unerring sense of style whilst maintaining an exceptional reputation for excellence and innovation worldwide!
They are the number one salon brand worldwide! OPI are committed to providing premium services with incomparable products that support both the salon and their clients! We are so excited to introduce this brand to the dbNail Bar.
 Infinite Shine
The Infinite Shine Range is long wear lacquer that offers the high shine and long wear of a gel manicure but with the ease of application and removal of nail polish!
In three easy steps, you can have 11 days of infinite wear and shine all in a 34 minute application!
We have over 20+ shades and this Spring/Summer Range is the Lisbon Collection!
Amazing, bright and gorgeous colours perfect for a city break or a beach getaway!
Gel Break
Give your nails a break with OPI Gel Break.
The OPI Gel Break restorative system helps nails appear healthy and rejuvenated in just one week!
Three easy steps:
The base coat is enriched with vitamins, bamboo extract and sodium hyaluronate, this amazing base masks nail imperfections and discolorations while laying the foundation for a flawless GEL BREAK manicure.
Choose from three neutral shades that complement all skintones!
The colour leaves nails naturally perfected which is ideal for those who don't want to bare it all when giving nails a break!
The top coat is enriched with bamboo extract, vitamins and sodium hyaluronate to help protect and preserve nails while providing a high gloss finish!
Try the new OPI Lisbon Collection in salon now!