---
Is your hair feeling sad?
Like even though you visit your stylist on a regular schedule, you come away feeling your hair could still be happier?
Kerastase's Fusio-Dose is your answer!

What is it?
Fusio-Dose is a completely personalised high performance hair treatment which takes instant action and has immediate visible results. Forming 20 different combinations of revitalising hair saviours, you'll never look back.
The range consists of a choice of 4 concentrates; These contain powerful active ingredients for your primary hair care need.
1. Oleo-Fusion Concentre – for Dry Hair; Adding deep nutrition, softness and shine.
2. Pixelist Concentre – for Coloured Hair; Adding shine, luminousity and protects colour.
3. Vita-Ciment Concentre – for Weakened Hair; Adding resistancy, reconstructing and restoring hair.
4. Densifique Concentre – for Thinning Hair; Adding texture and density to hair.
And 5 boosters; Which are concentrated care formulas and look after your secondary hair care need.
1. Nourishment Booster – for Dry Hair; Gives 3x times nourishment and contains an anti-drying action.
2. Radiance Booster – for Coloured Hair; Gives 5x more radiance and locks in colour.
3. Reinforcing Booster – for Weekend Hair; Provides instant vitality and 50% less breakage when blow drying.
4. Densifying Booster – for Thinning Hair; Adds instant texture and gives more bouncce and body to the fibres of the hair.
5. Managability Booster – for Unruly Hair; Supplies 72 hours of anti frizz protection and leaves hair instantly smoother and more manageable.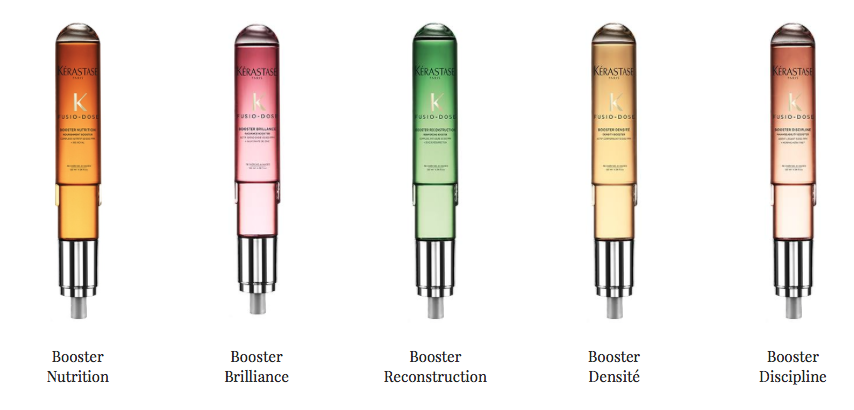 How does it work?
After having a thorough consultation with your hairdresser and determining what your primary and secondary hair care needs are; your hairdresser will select the appropriate concentrate and booster and mix these together to create your personally prescribed hair fix.
Why is it for me?
No matter what your problem, this treatment has the solution and will leave your hair feeling healthier for weeks.
It's a hair care beauty "shot" which will suit the woman on-the-go who wants wants healthier hair, with no extra time in salon. No need to sit and wait for this treatment to absorb in the hair, you simpy apply it and rinse off.
How much is it?
At Dylan Bradshaw you Fusio-Dose In-Salon Treatment is available for only €20.
What else..?
Kerastase have released a Fusio-Dose fix for take home care – The 'HomeLab Kit'. If you are a converted user of Fusio-Dose and already know your personal prescription, this will be a wonderful addition to your hair care routine at home. The kit contains 4 applications of the treatment; 4 concentrates and 4 boosters. The fun part is that you get to mix up the treatment yourself at home and watch it active instantly before applying.
At Dylan Bradshaw, you can take home your Fusio-Dose HomeLab Kit for only €50.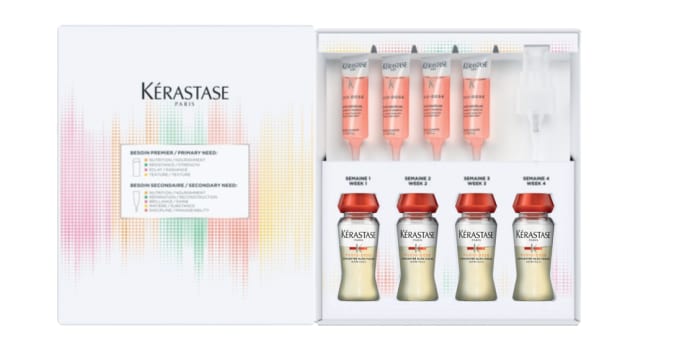 Drop in to see our team at 56 South William Street, Dublin 2 to transform your hair now!

---