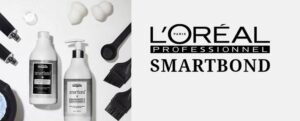 Smartbond is L'oreal's new hair service that protects bonds for stronger hair fiber during lightening sessions. Thinking of going blonde? You're going to want to read all about this!
From input from hairdressers, L'oreal's Research and Innovation Department used its 100 years of scientific expertise and long-standing knowledge in high-performance hair care to create smart bond.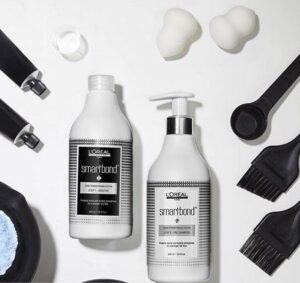 Why do I need it?
Without using Smartbond in your colour service you risk:
Damage by extensive colouring or lightening the hair.
Bonds in the hair weakening from oxidation.
Bonds in the hair can't reform because the ions have been damaged.
What does it do?
Targets the weaker parts of the hair bond to strengthen and limit stress to keep the bond together.
Colour will take more evenly as it will improve the overall finish of your hair.
Reverse the feel of damaged hair by reconstructing the weak ion bonds.
Will it affect my colour?
No, Smartbond adapts to colour products without affecting the lift or tone at all.
How does it work?
Smartbond is added to your colour when mixed and applied as normal. The colour is processed for the usual time. When the colour is ready to come off the hair is rinsed without shampoo and towel dried. Smartbond is applied as a pre-shampoo all over and left on for 10 minutes. This is then rinsed and shampoo and conditioner is applied as normal.
How much does it cost?
It is an additional service which costs €30 on top of your colour service. In order to maintain healthy locks the conditioner to take home is €20 and should be used once a week to protect the bonds.