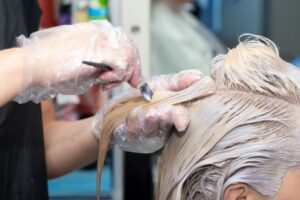 Toners are an important step in the hair colouring process. Check out why it's so important and how you can achieve your perfect colour.
Bleach is not a colour
Contrary to popular belief, bleach is not a colour. All bleach does is take the colour and pigment out of your hair. The professional term for bleach is "pre-lightener" which basically just strips away colour without adding any colour.
Final colour comes from the toning process
Your colour actually comes from the final step which is toning! For example, take blondes, the cooler the tone the more silvery it comes out and the warmer the tone the more coppery you get.
It's not just for blondes! 
Toners aren't just for blondes! It's essential brunettes and red heads get toners for added gloss and shine as well as achieving a certain shade.
How long does it last?
Toner doesn't last long which is why your colour fades. Depending on your hair type, toners can last from 2 weeks to 6 weeks. Usually, previously coloured hair which is more porous will hold colour for less time than natural or "virgin hair" which can hold colour for up to 6 weeks!
Great for shine
Acid based toners cann add shine to natural hair and won't affect the colour. It gives a super glosssy, varnish like effect. This is known as glossing.
Come in to the Salon and ask our stylists what's the right tone for you! Book here.