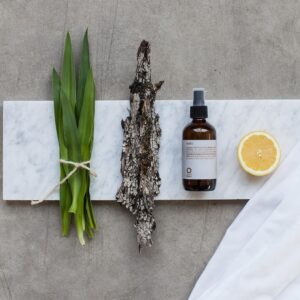 - Has an energizing and anti-stress effect on the mind
- Relaxing aromatherapeutic action
- Stimulate the senses with a gently energizing scent
Citrus top notes: Biodynamic Lemon, sweet and bitter Orange, Bergamot, Cedar

Mediterranea Maquis Middle Notes: Verbena, Lavender, Juniper

Oriental Base Notes: Rose, Jasmine, Ylang Ylang
At home: spray Tratto on lingerie, curtains, pillows, sheets and carpets to recreate the fresh and charming experience of a trip in the Mediterranean.

For clothes: perfect for clothes, scarves, shawls, sneakers. To recover a sensation of freshness. To feel refreshed after being in crowded places, waiting rooms and public transport means.

Travelling: Diffuse it in the interior of your car, on suitcase and on carryalls. Use Tratto to oxygenate yourself and breathe new air.