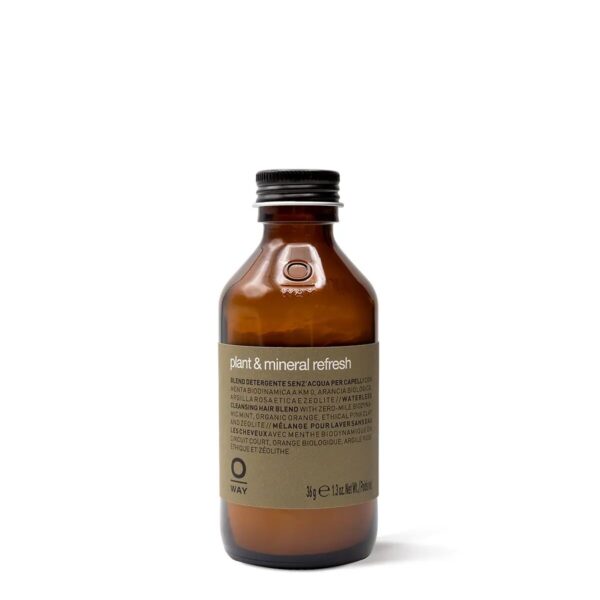 - Refreshes your look without the need for water.
- Absorbs excess sebum leaving hair light, voluminous and delicately scented.
- Limits the use of hot tools. Gives life and volume to roots of clean or unclean hair.
CASSAVA AND RICE STARCH // A complex of starches of different and balanced molecular weight that absorb greasiness and give lightness to hair. With soothing properties, they also provide comfort to the scalp. Rich in protein, they strenghten the hair stem.

ORGANIC ORANGE // Gives shine and energy. With sebum-regulating properties, orange is recommended for oil-prone hair.

ETHICAL AMAZONIAN PINK CLAY // Obtained from mixing red and white clay, it has skin-purifying and softening properties. It works directly on the scalp and regulates sebum production.

BIODYNAMIC MINT // Astringent and purifying, it lightens and refreshes roots, helping them to purify themselves from excess sebum. It stimulates the growth of healthy hair. With antiseptic properties, it fights scalp itching.

PUMICE STONE // A lava stone powder that works synergically with starches, completing their sebum-absorbing action. It remineralises and energises the hair fibre.

ZEOLITE // Also known as the "body scavenger" due to its purifying and detoxifying properties, zeolite absorbs toxins and chemical products, trapping them within its crystalline structure and removing them from the body. A scalp ally, it relieves scalp irritation and fights free radicals. Ingredient list
Shake the blend to mix to perfection. Spread on the dry roots and massage to distribute the product. If necessary, brush to eliminate any residues.