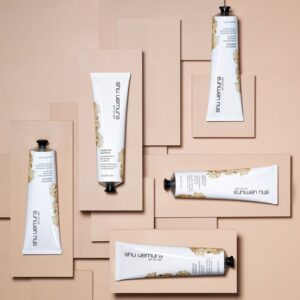 - Detangles Hair
- Nourishes Hair & Skin
- Moisturizing

Camellia oil

For over two centuries, camellia flower seeds have been harvested from the Japanese island of Toshima, where each seed is handpicked and transformed into a nourishing oil. Very rich in essential lipids, Camellia Oil is one of the most rapidly absorbed oils. Traditionally, camellia oil has been used to promote shine and nourish the hair while maintaining the lipid barrier on the skin longer, which promotes skin health and hydration.
Spread sparingly onto wet or dry hair to deeply nourish and protect the hair shaft. Apply on dry hair for a shiny and tamable result. Apply on eyebrows for treatment and dry parts of the body such as hands, nails, cuticles, and elbows for immediate comfort. Can also be used on facial hair. Can be reapplied if necessary during the day.