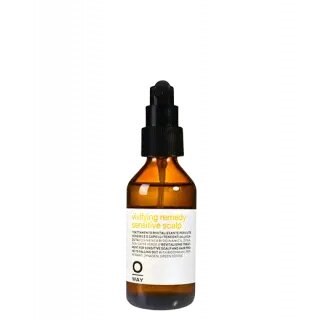 - Energises, strengthens and densifies the hair
- Provides light hydration, improving the comfort of the most sensitive scalps
- Alcohol free
ORGANIC GREEN COFFEE // Performs a toning and firming action.

HAIRSPA COMPLEX // The synergy of Lactilol and Xylitol favours the immediate moisturizing of the sensitised scalp, giving comfort and relief with a long-lasting action. It regulates the desquamation process and strengthens the skin barrier. It restores the scalp ecosystem, favouring the growth of healthy microflora to the detriment of pathogenic germs. HAIRSPA moisturizes the scalp in an immediate and longlasting manner, regulates the desquamation process and strengthens the skin barrier.

DYNAGEN // An active ingredient derived from Yeast, Dynagen adds strength and nourishment to the hair. This action takes place in the anagen phase, the active moment of hair growth, in which the growing hair fiber penetrates the inner root. Through the dynamization of proteins, Dynagen stimulates the formation of new levels of keratin and collagen in the hair.

ORGANIC HORSE CHESTNUT // It improves the micro-circulation of blood vessels and encouraging the hair bulb to revitalize and strengthen.

ETHICAL MAHOGANY // Antiseptic and astringent for the skin, invigorating and energizing for the hair.

BIODYNAMIC MINT // Astringent and purifying, it lightens and refreshes roots, helping them to purify themselves from excess sebum. It stimulates the growth of healthy hair. With antiseptic properties, it fights scalp itching.

ETHICAL TEAK // It strengthens hair structure. Antibacterial properties.
Shake before use. After cleansing, apply the product directly to the scalp. Leave in for a few minutes. Massage. Dry.
Tips for use:
• Intensive phase: 2-3 times a week for 6 consecutive weeks.
• Prevention and maintenance: 1-2 times a week for 4 consecutive weeks.
• For better absorption: divide the hair into 3 sections: front, right temporal and left temporal.
Apply VIVIFYING REMEDY - SENSITIVE SCALP and with clean fingers, make 3 circles to the left and 3 circles to the right.