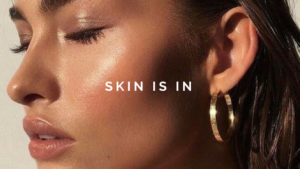 This summer, it's time to love the skin you're in!
It's 2018 and we want to go back to basics! Ditch the full coverage make-up and heavy baking, skin is in!
Make up artists to the stars and our top make-up artist, Becky Keane, shares her secrets to achieving this summer's must have look.
Skin
For the perfect sun-kissed, dewy look, Becky suggests using a good illumination under foundation. This will keep your skin hydrated and looking glowy under any foundation. You don't have to go abroad to rock this sun-kissed glow.
Becky's Pick:
dbFACE Illuminating Lotion in "Moviestar" €32
Brows
It's time to move on from the harsh, over-defined "Instagram" brow and welcome the natural and fluffy brows with open arms! Throw away the tweezers and let it grow how nature intended! A less defined brow, natural is this summer's go-to look.
Becky's Pick:
dbFACE Clear brow setting gel, this product will let you set your natural brows. Easy and hassle-free!
Eyes
No one wants to spend ages blending your eye shadows only for it to crease and melt off under the sun. Keep it basic in less the time this summer, a wash of colour on the eyes for a fresh youthful look is easy to achieve with a single shimmer shade.
Becky's Pick:
dbFACE Eyelights in 'Lava' (€16) is a sheer high shine loose pigment that gives the perfect sun-kissed glow.
Lips
Keep it simple for summer and go back to the basics. Opt for a super intense gloss for an effortless pout.
Becky's Pick: 
dbFACE Super Nectar Gloss €18
Finish off your golden hour skin glow by adding some dbFACE "Fake it" Illuminated Lotion on your shoulders, collarbone and chest for the perfect sun-kissed glow without catching a flight!